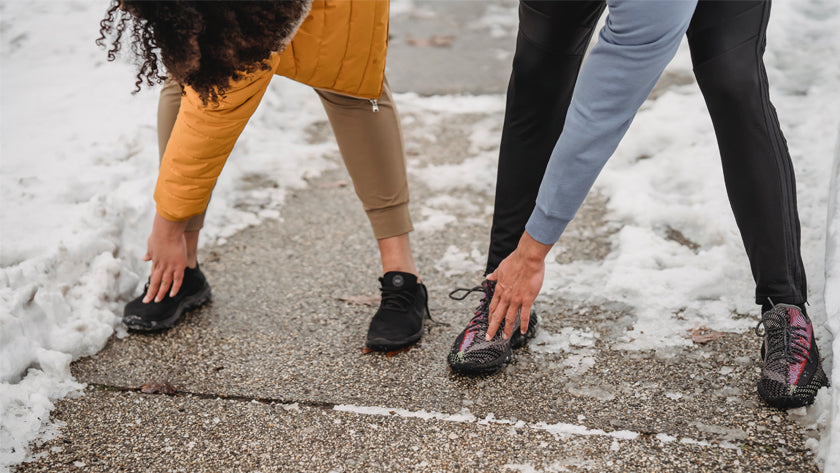 Winter trainings: Foot care tips you need to know
Your feet are the basis of your training and suffer when temperatures are lower. Occasional cold is ok, but if you feel that never goes away, it may cause dryness, bromhidrosis, onychomycosis, or chilblains on your feet. Take a look at the following pieces of advice! 
How to avoid foot injuries in winter
Socks are essential
Technical and breathable fabrics are the best ones. They don't get wet and won't leave your feet (literally) frozen as soon as you stop. Here you can learn more about this topic.
Performing leg stretches
Improve blood flow throughout the body. Stretching your legs causes the muscles to press on the arteries. Then, the body releases chemicals that expand the arteries, and increase the blood flow. Apply Imperial Feet Magnesium Oil which works against restless legs and painful cramps. Your legs will be free of fatigue and fully revitalized!
Moisturize
Hydrated skin with urea creams decreases the risk of hardness and/or cracks. Areas such as the heel also need even more hydration. Imperial Feet Urea Foot Balm  relieves pain, dryness, and improves the appearance of the skin.
At the same time, regular scrubs may prevent any calluses. Try Imperial Feet Foot and Leg Scrub to restore that baby-soft feeling, and boost the spa-like experience with the practical Stainless Steel Foot File. 
Attention to your running technique
In cold weather, the structures of the foot are stiffer, and the problems caused by incorrect stepping are higher.
Stay away from a direct heat generator
After finishing a cold training session, don't place your feet immediately close to a heat source such as a stove or hot water. Believe it or not, this is one cause of chilblains. It's better to allow them to warm up gradually.
Soaking feet
A home remedy is to cool the skin after going for a run. Soaking your feet in cold water and putting them up, will help their recovery. Your best ally is Imperial Feet Footbath Oil to relieve rheumatic and arthritic pains, cramps, and excessive perspiration.
Including these tips and with common sense, we will keep our feet healthy... Even in winter!