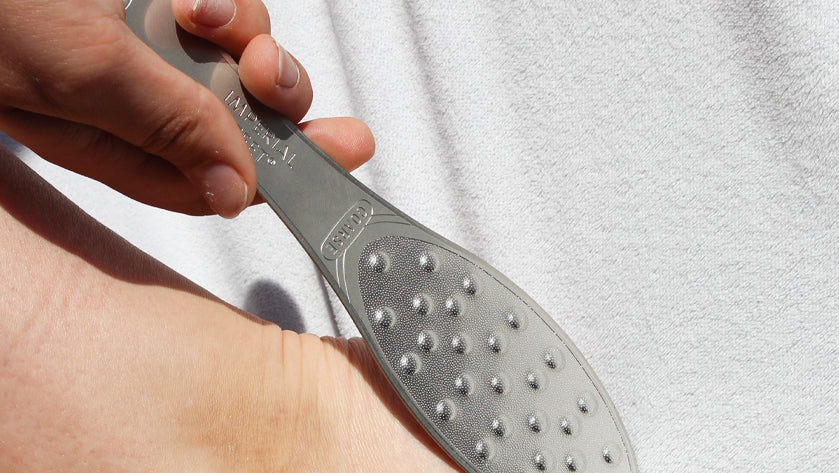 Discover our new double action foot file!
This tool will leave you speechless. It is a two-sided feet pedicure treatment to effortlessly remove dead skin and leave your feet with a smooth and soft finish. Let's introduce you to our stainless steel foot file!

Reduce hardness on heels, sides, and soles.

We are pleased to announce that removing calluses or corns from our feet with Imperial Feet will be an even easier task because the new foot file allows you to work quickly and deliver an incredibly smooth finish.

The file for corns and dead skin exfoliation is one of the favorites of professionals in podiatry. Why?

Find the five benefits included in our foot file:

1. Ergonomic design
It has two sides with soft or hard effects according to your type of foot.  Just turn the file, and that's it! It's a tool used by professionals in podiatry.

2. High quality
The callus file is high-quality stainless steel made of, which allows you to use it in the bath or shower.

3. Ideal weight
The medium but very lightweight design allows you to work with ease and quickly provides incredible smoothness.

4. Long-lasting
Unlike electric dead skin remover, there is no need to buy expensive batteries or spare parts. It's also too easy to disinfect, sterilize or clean with mild soap and water.

5. Versatile
It works fine either on wet or dry feet, according to the client. 
A new addition to your foot care routine
Imperial Feet foot file and callus remover is the best pedicure tool with a metal surface to eliminate calluses. We suggest using the Corns and Calluses Balm for the perfect duo against dry, calloused and cracked heels. Restore your soft feet with little effort with the new Imperial Feet foot file.