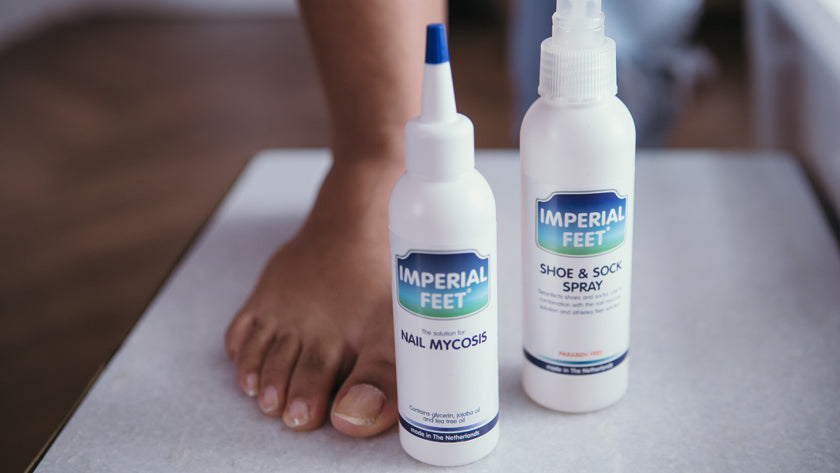 Meet our Fungal Nail Treatment Set
What better treatment for nail fungus than the power duo of Nail Mycosis Solution and Shoe and Sock Spray! The unique combination of these two will get your nails back to health without any more worries.
You've probably seen some pictures of toenail fungus, and they're pretty creepy. The change in structure, color, and shape that a fungal nail infection can cause is severe. But no need to worry, this fungal toenail kit from Imperial Feet will instantly gain control of the situation.
But before anything else...
What is a nail fungus infection?
A fungal nail infection attacks a fingernail or toenail, or the skin under the nail called the nail bed. If you are healthy, a fungal nail infection probably won't cause serious problems. But it may look bad, hurt or damage the nail or nail bed. What are the symptoms? An infected nail may:

- Turn yellowish or whitish.
- Thicken.
- Chip and crack may separate from the skin.
We're here for you!
Nail Mycosis Solution is a nail fungus treatment containing an advanced formula with natural ingredients such as Glycerin, Tea-tree Oil, and Jojoba Oil to help eliminate the nail fungus problem. It is our #1 selling product!
How is nail fungus spread on the toenails?
It can be transmitted by direct contact or by contact with items such as shoes and socks. That's why we added our Shoe and Sock Spray to this kit!
One of the ways to best treat nail fungus is by preventing it! You can only obtain that by using our excellent protective barrier provided by Imperial Feet's Socks and Shoe Spray, so you combine two disinfecting effects in our kit.  At the same time, you will keep your feet feeling fresh.
When we need to restore our nails' health, we look for solutions for foot care with effective nail fungus treatment. Fungal Nail Treatment Set by Imperial Feet is the best way to get rid of toenail fungus. 
We look forward to your feedback!