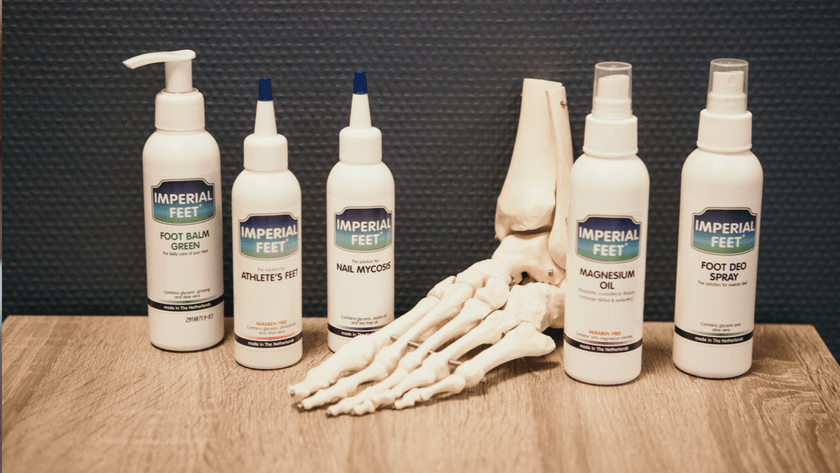 Safe, hygienic, and highly effective: 7 Step Medi-Pedi method!
Innovation is one of our core values and as part of our daily interactions we've reached one of our best-known podologist professionals Wendy-Ann Pompey who has created the Imperial Feet 7 step medi-pedi method.
Imperial Feet's 7 Step Medi-Pedi is a waterless pedicure treatment designed to promote healthy feet without the use of chemicals. Because of the wide variety of essential oils used in our products, it also helps to provide healing not only to the soles of the feet, but also to perform the most relaxing foot massage/reflexology treatment.
The best pedicure treatment!
This is the spa relaxing treatment you've been dreaming of, leaving your feet baby-smooth for 3-4 weeks. Let's get started!
Start by cleansing your feet using Imperial Feet's Foot Deo Spray, this will eliminate all the residues of dirty particles on your feet.

 

Apply Imperial Feet's Magnesium Oil to the lower legs stopping right on the ankles. Don't forget to massage gently so it absorbs completely. Right after, spray into the toes and the soles of the feet and let it dry for a couple of minutes.

 

Work on the soles of the feet to remove the excess of calluses and cracks using a Pedi-File. This will help you get rid of the dead skin on your feet.

 

Cut and shape your nails and remove excess cuticles using a file.

 

Exfoliate your feet and legs with Imperial Feet's Foot Bath Oil, this will allow moisturizing your skin, then apply Imperial's Feet's Foot Scrub. After scrubbing legs and feet, wrap them with a warm and moist towel. Leave it for a couple of minutes and then clean it with the towel.

 

Clean your feet with Imperial Feet's Nail Mycosis for the nails and Athlete's Foot Solution for the soles of the feet.

Apply Imperial Feet's Moisture Solution to your leg and feet and massage it. We also recommend Imperial Feet's Foot Balm Green, which will give you that refreshing feeling like a summer Breeze! 
We would like to share some additional tips with you about this step by step pedicure treatment:
Wendy-Ann's top 4 extra facts you need to know
Why is it relevant to know this method?
This amazing pedicure treatment basically allows the clients to sample the product before purchasing, and, in cases of clients who are struggling with nail or foot fungus, this allows the treatment to begin at the spa. This along with the fact that I have been searching for highly effective foot care products with natural ingredients.
Main benefits for your customers:




Clients always leave with baby soft feet that can stay smooth for 3-4 weeks with proper home maintenance, this is achieved due to amazing moisturizing properties in the products.



When can it be applied?




I usually suggest a pedicure every 4-6 weeks, but I always advise my clients to maintain a nightly foot care routine using the product that corresponds to their individual needs.



Is it for all types of customers?




Yes, this pedicure method is safe for everyone especially diabetics, waterless pedicuring is safer for diabetics and this coupled with the fact that all the products in the 7 Step Medi-Pedi are safe for diabetics makes it the perfect treat for them.