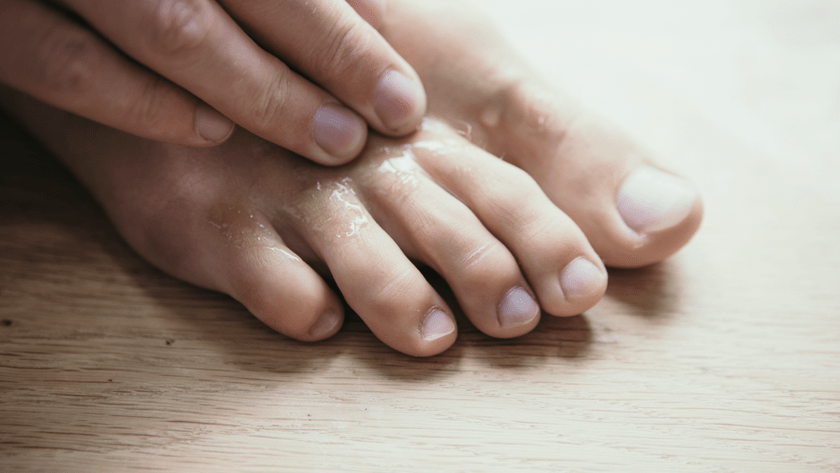 How to increase blood flow on your feet?
Have you ever had cold hands or feet? A lot of fatigue or your foot gets numb? This series of complaints are usually caused by poor blood circulation. When you change your habits or get your body in motion, healthy circulation is restored, tissues and muscles receive the oxygen and nutrients they need to heal. Blood moves through your veins and arteries more efficiently.
Why do circulatory problems appear?
You may have heard about people wearing special socks to help the circulation or maybe you have suffered a terrible cramp in the middle of the night. There are several situations in which the common cause has to do with blood circulation and some reasons might be:
Sedentary lifestyle.
Very dry, hard, and rough skin.
Suffering from chronic stress.
Overweight and obesity.
To have problems with high cholesterol.
To consume alcoholic drinks and tobacco.
Wearing clothes that are too tight.
Suffering from cardiovascular diseases, diabetes.
Eating foods rich in saturated and trans fats.
Sometimes it is not something visible at first sight, but we can help our circulatory system function in the best way possible.
How to increase blood flow on your legs and feet?
Exercise a little more
Don't worry, no need for gym tools or similar. Physical exercise helps facilitate the venous return of the legs and therefore prevents or relieves discomfort such as swelling and heaviness.Its regular practice starts the blood flow throughout the body and, in turn, strengthens the arteries and veins to avoid damage. Besides, it is one of the allies to reduce the presence of cholesterol and toxins, both linked to the appearance of circulatory diseases.
Raise your legs
Laying down and putting your legs up, specifically above your heart, is beneficial after spending time sitting or standing. For pregnant women, it is ideal to sleep lying on the left side and place a pillow between the legs to be more comfortable.
Lose weight
Being overweight makes it more difficult for your blood to flow efficiently and puts stress on your arteries and veins.  Maintaining a healthy weight improves your cardiovascular health.
Incorporate cold water baths
This practice relieves heaviness and reduces leg swelling, and has many other benefits such as stimulating defenses, firming the skin, and preventing colds. After finishing your bath and with your feet very dry, you can apply Imperial

 

Feet's Footbath Oil

, its formula based on lavender oil and pine needles will revitalize and refresh your feet.
Perform a gentle upward massage on your legs
This action is very effective if you have swollen legs or feet, improving circulation and enhancing blood flow, also it lowers blood pressure and stress, improves body function, and can play a vital role in a healthier lifestyle.You may include in the massage Imperial Feet's

 

Foot and Leg Gel to provide the energy to relieve sensations of heaviness and fatigue while bringing a soothing effect that is long-lasting with fast-absorbing properties.
Moisturize your skin more often
Changes in the skin texture may indicate poor circulation. It is very important to moisturize our feet with specific creams to avoid worse injuries. There are excellent options with products like Urea Foot Balm, Foot Balm Blue, and

 

Foot Balm Soft

 

to treat dehydration in a satisfactory way.
Foods to improve blood flow
Besides these habits, you can also modify your diet to get a healthier lifestyle. These are some of the most efficient healthy foods to consider:
Drinking tea
The antioxidants in tea promote cardiovascular health and they can improve circulation. This applies to both black and green tea. A 2001 study, published in the medical journal Circulation, found that black tea improves blood vessel health. Healthy blood vessels help enhance blood flow.
Eat fish
Omega-3 fatty acids in oily fish promote cardiovascular health, and improve circulation. Fatty fish include salmon, mackerel, sardines, and tuna. For vegetarians or vegans, kale contains small amounts of omega-3 fatty acids.
Orange
Famous for its high content of vitamin C, helps the immune system, strengthen the capillary walls, and prevents the accumulation of blood plaques. On top of that, it contains substances called polymethoxylated flavones that reduce bad cholesterol in the blood.
Ginger
It is a plant that stimulates blood flow, when eaten, it helps the stomach to absorb nutrients and oxygen that the blood needs for proper functioning. It also dilates the blood vessels, counteracts bad cholesterol, and prevents the formation of platelets.
Water
The water helps eliminate toxins from the body, which undoubtedly helps improve blood circulation, and also prevents blood clots. It is recommended to consume 1 Lt ½ to 2 Lt per day to keep the body hydrated and to be able to transport the necessary nutrients to all the organs and tissues.
Turmeric
This popular Indian spice contains anti-inflammatory and antioxidant properties that stimulate blood circulation helping to maintain blood flow. Also, its substance called curcumin prevents the accumulation of bad cholesterol in the arteries preventing them from becoming small.
In summary, better nutritional habits may also improve your health condition. Of course, if you observe signs in your skin that may denote that you suffer from poor blood circulation, it's recommended to consult a specialist.